SRI SUBRAMANYA COLLEGE OF ENGINEERING & TECHNOLOGY (SSCET) -CIVIL
B.E – CIVIL ENGINEERING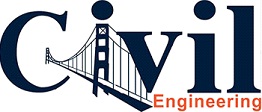 The Civil Engineering being the oldest branch is considered to be the most versatile branch among all the engineering branches. Civil Engineering is a Professional Engineering discipline that deals with the design, construction and maintenance of structures that are in sync with the environment a few to name bridges, roads, canals, dams and buildings. It has got a lot of sub-divisions like Geotechnical Engineering, Structural Engineering, Environmental Science, Transportation, Hydrology and Construction Engineering, etc.
The Department of Civil Engineering was established in the year 2010-2011 with an intake of 60 students. This institution is affiliated with Anna University, Chennai. The department has been imparting quality education keeping in mind the recent technological advancement and the industrial requirements. This has been made possible due to qualified and dedicated faculty with rich experience in the diversified streams of Civil Engineering. The department is fully equipped with laboratories and it aims to enrich the student's knowledge both in theory and practical applications.
We regularly arrange field visits for students to observe the real life scenario of various activities of Civil Engineering. We invite experts from reputed institutions and organizations to share their knowledge and experience with Civil Engineering students to motivate and enlighten them. Students are encouraged to actively participate in co-curricular and extra-curricular activities in reputed institutions all over Tamilnadu. We have plans to conduct certified value added training programmes on Total Station, GPS and software like StaadPro and Revit.The department have actively involved in various research activities and industrial consultancy works with firms and industries in and around Palani.
VISION
To be an ideal knowledge resource centre in providing quality education and introduce to advanced technologies in the arena of Civil Engineering and to produce professionally competent Civil Engineers with right attitude towards social responsibility that will help to tackle the growing infrastructure needs of the country.
MISSION
◊ To educate students with a thorough knowledge in civil engineering fundamentals, the design aspects and their applications and prepare them as professionals for the real world challenges using innovative techniques.
◊ To make the Department a centre of excellence in the field of Civil Engineering, motivate the students for higher education and guide them for research in their area of interest.
◊ To implement more consultancy services to the community in all areas of Civil Engineering.
COURSE DETAILS
In the recent years the Engineering institutions in India have changed into outcome based education system which means the performance of any programme is evaluated based on the outcome of the graduates from the institution. Keeping that in mind, the Department have identified Programme Educational Objectives (PEO) and the expected Programme Outcomes (PO) which are listed below.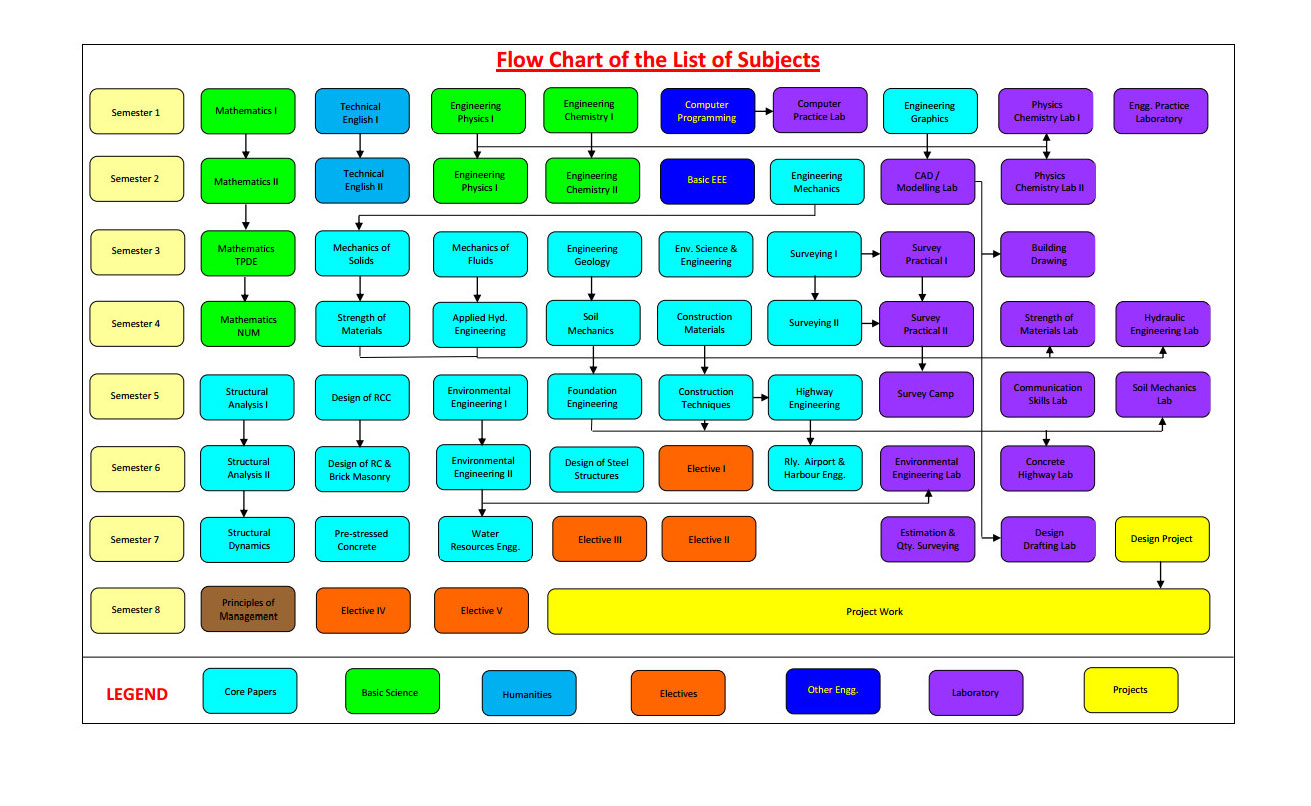 PROGRAMME EDUCATIONAL OBJECTIVES (PEO)
◊ To provide the students with a strong foundation in the basic Sciences and Mathematics that will assist them to identify and solve real time problems in Civil Engineering.
◊ The students will acquire a broad knowledge in Civil Engineering and be capable of applying their knowledge practically in the industry, advanced research activities and to pursue higher education.
◊ The students will develop the abilities to analyse, design and provide solution by the application of necessary mathematical tools, scientific basics, and fundamental knowledge of Civil Engineering.
◊ The students through self-learning will update themselves and fully aware of recent developments and technologies pertaining to their profession and face the challenging needs of industry.
PROGRAMME OUTCOMES (PO)
◊ Graduates will have the ability to apply the knowledge of mathematics, science, and engineering to solve civil engineering problems and design the civil engineering projects with the latest tools.
◊ Graduates will be well versed in using Indian Standard code of practice to solve all sort of Civil Engineering problems.
◊ Graduates will be capable of preparing building plan and design documents, such as specification, contracts, change orders, construction schedules and other detailed engineering drawings.
◊ Graduate can design and accordingly conduct experiments, further which they can analyse, interpret the data and communicate/present the conceptual solution to the stakeholder.
◊ Graduates will be able to recognize the importance of Civil Engineering professional development by pursuing postgraduate studies or face competitive examinations that offer challenging and rewarding careers.
◊ Graduates can perform economic analysis, quality checks, time/labour management and cost estimates related to design, construction, operations and maintenance of various constructions.
Faculty:

List of Laboratories:

Survey Laboratory

Surveying is the primary work done in any construction projects. This lab possesses traditional and modern surveying instruments. The students are trained to measure and record the details of an area of a land, the relative positions of the natural and man-made features on the earth's surface and presenting the information either graphically or numerically.

The list of available equipment's are – Electronic Total Station, Theodolite, Dumpy Level, Plain Table, Pocket Stereoscope, Prismatic Compass, Surveyor Compass, Cross Staff, Chain, Tape, Ranging Rod, Levelling Staff and GPS.

Strength Of Materials Laboratory

The quality of building materials is tested under environment as per Bureau of Indian Standard. The students are trained to apply loads to various construction materials under different equilibrium conditions. Tests on materials in compression, tension, torsion, bending, and buckling are performed. These conditions and/or constraints are designed to reinforce classroom theory by having the student perform required tests, analyse subsequent data, and present the results in a professionally prepared report

The list of available equipment's are – Universal Testing Machine, Torsion Testing Machine, Spring Testing Machine, Rockwell and Brinnel Hardness Testing Machine, Impact Testing Machine, Beam Deflection Apparatus, Le Chatelier apparatus, Vicat Apparatus, Metallurgical Microscope, Dial Gauges and Extensometer

Hydraulic Engineering Laboratory

Student will be able to verify the principles and theory studied in Fluid Mechanics and Applied Hydraulic Engineering by conducting experiments

The list of available equipment's are – Bernoulli's Theorem, Open Channel Flow, Venturimeter & Orifice Meter, Reciprocating Pump, Centrifugal pump, Pelton Wheel Turbine, Francis Turbine, Kaplan Turbine, Pitot Tube, Impulse Turbine, Meta Centric Height, Orifice and Mouth Piece Apparatus, Hydraulic Flume

Cad Laboratory

Computer Aided Design Lab has thirty five systems exclusively installed with AutoCAD and Structural Analysis and Design STAAD.Pro Software's Students are introduced to draft the plan, elevation and sectional views of buildings in accordance with development control rules satisfying orientation and functional requirements as per National Building Code. Students acquire hands on experience in design and preparation of structural drawings for concrete / steel structures normally encountered in Civil Engineering practice.

Soil Mechanics Laboratory

Students will be able to apply the theory and principles learnt in Soil Mechanics theory subject. The students study the physical properties and engineering behaviour of soils through field and laboratory test methods according to the Indian Standards. The behaviour of soil under different loading conditions is necessary for the safe design of structures. The report from this lab is mandatory for the design of relevant foundation or structure.

The list of available equipment's are – Set of Sieves, Liquid and Plastic Limit Apparatus, Shrinkage Limit Apparatus, Hydrometer, Proctor Compaction, Pycnometer, Tri-axial Shear, Three Gang Consolidation, Direct Shear, Field Density Measuring Device, UTM and Thermometer

Concrete And Highway Engineering Laboratory

Students apply the principles and procedures of testing the materials used for concrete and highway construction that were learnt in Construction Materials and Highway Engineering theory subjects. Also, the students learn the quality control to be maintained while preparing concrete as per IS Code. The list of available equipment's are – UTM, Compression Testing Machine, Marshall Stability, Vee Bee Consistometer, Ductility Testing Machine, Flexural Testing Machine, Flow table, Compaction factor Test, Concrete Mixture, Hot Air Oven, Centrifuge Extractor, Los Angeles Abrasion Testing Machine, Slum Cone, Aggregate Impact Testing Machine and Electronic Weighing Machine

Environmental Engineering Laboratory

Students apply the principles learnt during the Environmental Engineering theory paper. The student will understand the sampling and preservation methods and significance of characterization of wastewater.

The list of available equipment's are – Digital pH Meter, Turbidity Meter, Chlorine Comparator, Muffle Furnace, Water Bath, Magnetic Stirrer With Hot Plates, Jar Test Apparatus, Conductivity Meter, Kjeldane Apparatus, Desiccators, BOD and COD Analyser, Digital Spectrophotometer & Refrigerator.

ASSOCIATION ACTIVITIES


Association Activities - [2015 – 16]

Association Activities - [2014 – 15]



SEEDS CLUB REPORT


Seeds Club Report - 2015



Staff Achievements

| | | | |
| --- | --- | --- | --- |
| S.No | Date | Name | Event |
| 1 | 21.10.2013 to 22.10.2013 | P.Sakthi Kumar | Two days National Seminar on "Earthquake and Structural Health monitoring" - Esha College of Engineering and Technology, Coimbatore |
| 2 | 14.03.14 | P.Sakthi Kumar | Paper Presentation – "Environmental Impact of Dam at the INTERNATIONAL CONFERENCE ON RECENT INNOVATION IN ENGINEERING" – SSCET, Palani |
| 3 | 09.06.2014 to 14.06.2014 | V.GuhanMuthuram | FDP on "Earthquake Resisting Structures", Anna University Dindigul Campus, Dindigul |
| 4 | 23.06.14 | P.Sakthi Kumar | FDP on "Non-destructive testing on concrete " – Nehru Institute of Technology, Coimbatore |
| 5 | 23.06.14 | D.Dinesh Kumar | FDP on "Non-destructive testing on concrete " – Nehru Institute of Technology, Coimbatore |
| 6 | 02.12.14 to 08.12.2014 | V.P.Stallin | FDP on "Structural Analysis I", SSM, Dindigul |
| 7 | 24.01.2015 | P.Santhosh Praveen | AutoCADD 2015 – advanced features, |
| 8 | 12.10.2015 to 16.10.2015 | D.Dineshkumar | FDP on "AutoCADD", Ramco Institute of Technology, Rajapalayam |
| 9 | 02.12.2015 to 08.12.2015 | P.Santhosh Praveen | FDP on Soil Mechanics, Ramco Institute of Technology, Rajapalayam |

| | | | | |
| --- | --- | --- | --- | --- |
| S.No | Name | CGPA | Rank | Photograph |
| 1 | S.V.HemaShangari | 8.89 I Class with Distinction | 6th | |
| 2 | A. Nirmaladevi | 8.55 I Class with Distinction | 24th | |

| | | | | |
| --- | --- | --- | --- | --- |
| S.No | Name | CGPA | Rank | Photograph |
| 1 | D.Chandralekha | 9.08 I Class with Distinction | 9th | |
| 2 | C.Y.Faseela | 8.64 I Class with Distinction | 42nd | |

Academic Year 2014 - 2015

Sl.No
Date
Name(s)
Event
1
27.12.2015 to 31.12.2015

B.Harini , S.K.Monika,
D.ShanmugaPriya,
C.Srividhya, A.Sangeetha
A.Gayathri, M.Gayathri

Inplant training (during semester holidays) - AG – Builders, Udumalpet

2
11.09.2015

M.Shanthi, B.Harini, D.ShanmugaPriya, C.Srividhya, A.Gayathri, R.Kowsalya, A.Marimuthu

TekkieSaga'15 – Symposium –
Paper presentation, Paavam Engineering College, Namakkal

3
31.07.2015

M.Shanathi, B.Harini, D.ShanmugaPriya

IGBC – one day training programme on Green Building, Coimbatore

4
06.03.2015

B.Harini, S.K.Monika, C.Srividhya
A.Sangeetha, A.Gayathri, P.GirijaSivalakshmi, S.Nithya, N.Rani
M.Naveena, S.RamyaKaleeswari, M.Shanthi, K.Ganga, R.Kowsalya, P.Kohilavani, A.Marimuthu, S.DavidSahayaraj, P.Nageshwaran, Karthik Shankar

One day workshop on Pre-Fabricated building practices – Anna University, Dindigul Campus

5
20.02.2015

M.Shanthi, B.Harini, D.ShanmugaPriya, S.DavidSahayaraj, S.Ganesan, Satheesh Kumar

INCEPTO'15 – Symposium – Paper presentation, Kongu Engineering College, Erode

Placements:

S.No
Name of the student
Dept.
Company Name
Salary Package
(Per annum)

Photo

1
Hakkeem .A
Civil
M/S. Studio Maax
1.2 Lacks

2
Chandralekha .D
Civil
M/S. Studio Maax
1.2 Lacks

3
Kathirvel .P
Civil
M/S. Studio Maax
1.2 Lacks

4
AYYAPPAN.S
Civil
M/S. Balaji Builders
1.2 Lacks

5
JEYAPRAKASH. S
Civil
M/S. Balaji Builders
1.2 Lacks

6
SENRASU. R
Civil
M/S. Balaji Builders
1.2 Lacks

7
Ram Kumar
Civil
M/S. Southern Enviro
Technologies Pvt Ltd
96,000

1. Anna University Final Year Project Guidelines

UGTHESIS GUIDELINES

2. Link to code books

IS 456 - 2000
SP 16
IS 800 -2007
IS 10262- 2009
SP 20
IS 1343 - 1980
Is 1905 - 1987
IS 6403 – 1981
IS 1893 – 2002
IS 13920 – 1993
IS 3370 Part IV- 1967
IS 784 – 2001