FROM THE CHAIRMAN'S DESK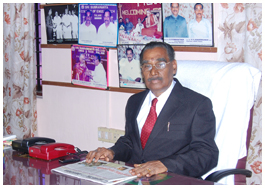 Dear Friends,
Greetings. Many thanks for your interest in
SRI SUBRAMANYA COLLEGE OF ENGINEERING & TECHNOLOGY (SSCET).
Sri Subramanya college of Engineering. And Technology is committed to building a congenial atmosphere in which coexistence is essential to create an intellectual academic community. We believe that we have a special responsibility to nurture co-operation, tolerance and mutual respect in our nation of diversity.We will make the college a place to promote freedom of thought, innovation and creativity which are essential for academic excellence. Each one of us has a continuing commitment to articulate, reinforce and reflect our national values. We welcome you to our college and we are delighted to provide you with all assistance in achieving your academic goals. On behalf of all of us in the College, I wish you all the best.