FROM THE JOINT MANAGING TRUSTEE DESK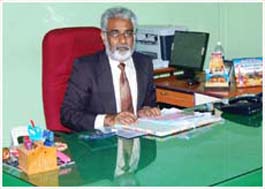 Dear Friends,
Greetings. Many thanks for your interest in
SRI SUBRAMANYA COLLEGE OF ENGINEERING & TECHNOLOGY (SSCET).
As the Joint Managing Trustee of Sri Subramanya College of Engineering & Technology (SSCET), I have immense honour to a associate my self with this great institution. One of the most important and challenging aspects of our education system today is the need to consistently deliver quality education in the classroom at the same time inculcating leadership quality in the students.
As an institution of higher education, SSCET is committed to the discovery and transmission of knowledge. SSCET endeavours to educate a new generation of leaders for the new millennium—men and women who will be capable of shaping a new century with vision, justice, and charity—with a sense of calling, with concern for all of the human family. We seek and enjoy this challenge because it is a worthy goal for any college, but particularly for SSCET, a technical institution uniquely suited to be a beacon of hope and light for all. I invite you to join us, as a prospective student, parent, or simply as a friend. Being a student at SSCET, you are about to become part of the distinguished tradition that SSCET has worked toward building over the last 12 years. As the College's Joint Managing Trustee, it is important to me to continue with the college's efforts to expand and improve the quality of education for all students. Beyond that, I will continue to support and encourage the many life-enriching events, activities and programs at SSCET which provide you with a well-rounded educational experience.
I can say with utmost confidence that your experience at SSCET will be one of growth, change and opportunity – the opportunity to learn new things, meet new people, exchange ideas and debate issues. Many people will be there to guide you along the way. Faculty will inform and challenge you. Staff and administration will assist you. Fellow students will inspire you. Now, what can you bring to SSCET.
Ultimately, it is your responsibility to make sure you invest the time and effort, and take the initiative that will lead to your success here at SSCET. Are you ready for that commitment? Are you ready to succeed in achieving your goals? If so, then we here at SSCET will be ready to support you in your efforts.
"I wish you much success as you work toward your future"